Babylon Reports – Car crash on Koya Road, Explosion in Suli, Ben Stiller Goodwill ambassador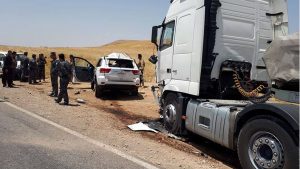 Three people died, and others were injured Monday as a result of a traffic accident on Koya road connecting the cities of Erbil and Kirkuk.  A truck hit a jeep around noon, killing three people and injuring three others. Traffic police officials have called on drivers to respect speed limits and to drive carefully, especially if there are children in the car. Accidents happen regularly in the region because of speeding and reckless or distracted driving.
Over in Sulaimani, a fire broke out yesterday at an arms and ammunition warehouse belonging the Peshmerga forces. Several warehouses in the Tasluja area were affected by the fire, triggering explosions. The blast forced a number of people to leave their homes out of fear the fire would spread to their area.
Lastly, actor Ben Stiller, best known for his roles in comedies like "Dodgeball" and "Zoolander," has been named a Goodwill Ambassador by UNHCR. Stiller added in a statement that "there has never been a more compelling reason or greater urgency to show solidarity and support for refugees."
---