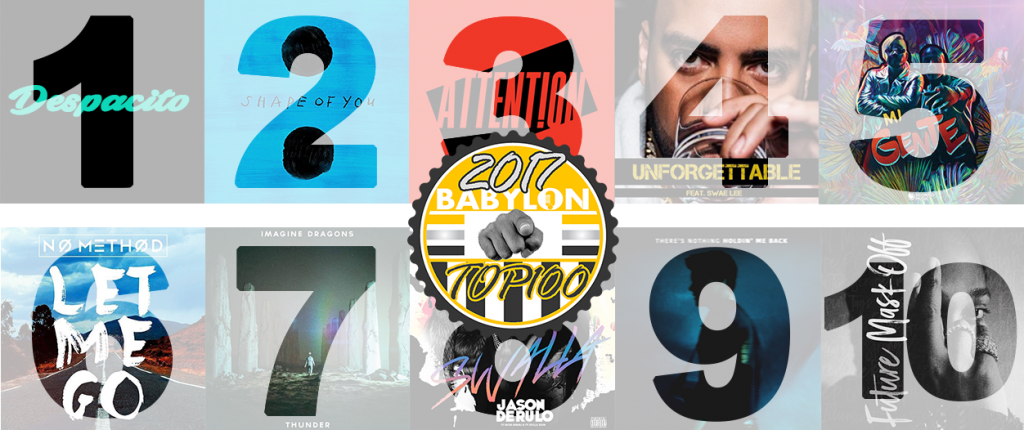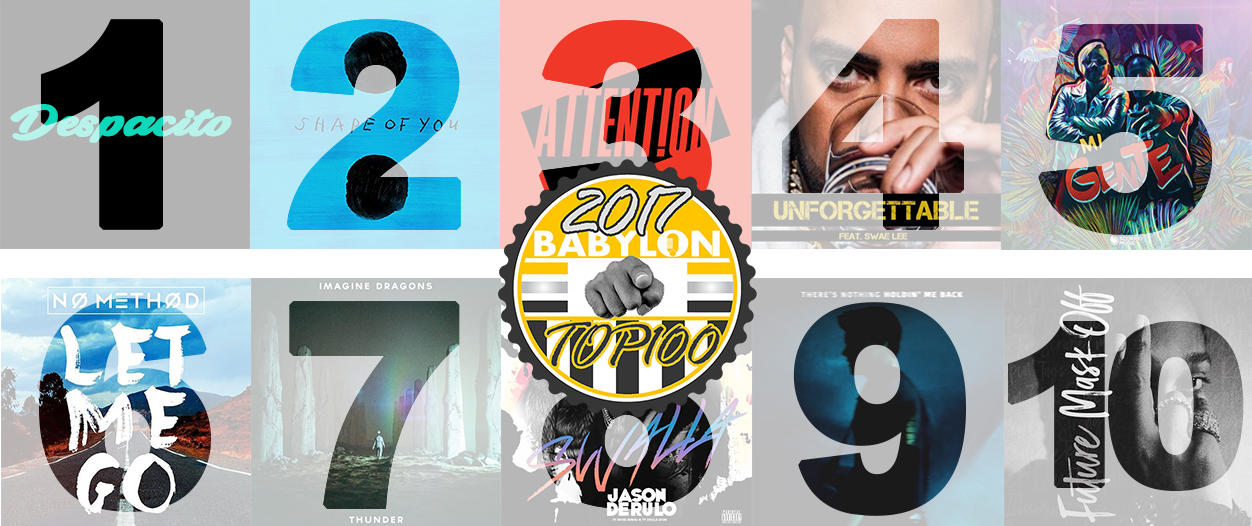 2017 was a year of lots of ups and downs. We finally saw the defeat of ISIS, we could comfortably breathe again! With some much positive vibes in the air, we thought what better thing to do than hold a referendum for independence! That didn't go too well, as Iraqi PM Haidar Abadi ordered the closer of our airports, leading to more crippling of our economy.
Abadi wouldn't let up, so our team decided to use this year's Babylon TOP100 as a way of standing up to him once and for all! Check out how the team did. This year, the big show featured Noor, Intern Rosie, DDe, Gabrielle Ranued, Zane, and Dilawi.
The year saw interesting things happen that lead to new phrases, such as "Maqul Chiya!" Messi got married to his childhood sweetheart. Ronaldo got twins. Conor McGregor got his butt beat by Floyd Mayweather, but still cashed in millions of dollars. We also witnessed the end of Linkin Park, as lead singer Chester committed suicide. With the referendum high in the air, HellyLuv came out with "Finally" to support the cause.
Latin music took over the word, with Despacito grabbing the number one spot. We saw some of our favorites coming back with amazing new albums including Ed Sheeran, Imagine Dragons, and Future. This year saw the comeback of Hip Hop in mainstream music, with 3 songs in the top 10. An unexpected Armenian song (Mi Gna) was made popular by a snapchat from Kim Kardashian, and it pushed it inside the top 20.
| | |
| --- | --- |
| 1 | Luis Fonsi – Despacito (feat. Daddy Yankee, Justin Bieber) |
| 2 | Ed Sheeran – Shape of You |
| 3 | Charlie Puth – Attention |
| 4 | French Montana – Unforgettable (feat. Swae Lee) |
| 5 | J Balvin & Willy William – Mi Gente |
| 6 | No Method – Let Me Go |
| 7 | Imagine Dragons – Thunder |
| 8 | Jason Derulo – Swalla (feat. Nicki Minaj and Ty Dolla Sign) |
| 9 | Shawn Mendes – There's Nothing Holdin' Me Back |
| 10 | Future – Mask Off |
| 11 | Kygo – It Ain't Me (feat. Selena Gomez) |
| 12 | Cardi B – Bodak Yellow |
| 13 | Katy Perry – Chained to the Rhythm (feat. Skip Marley) |
| 14 | DJ Khaled – Wild Thoughts (feat. Rihanna, Bryson Tiller) |
| 15 | Imagine Dragons – Believer |
| 16 | The Chainsmokers – Paris |
| 17 | The Weeknd – I Feel It Coming (feat. Daft Punk) |
| 18 | Alan Walker – Alone |
| 19 | Super Sako – Mi Gna (feat Hayko) |
| 20 | Camila Cabello – Havana (ft. Young Thug and Pharrell Williams) |
| 21 | David Guetta – 2U (feat. Justin Bieber) |
| 22 | Taylor Swift – Look What You Made Me Do |
| 23 | Shakira – Me Enamor |
| 24 | Sean Paul – No Lie (Feat. Dual Lipa) |
| 25 | Harry Styles – Sign of the Times |
| 26 | Jax Jones – You Don't Know Me (Ft. RAYE) |
| 27 | Dua Lipa – New Rules |
| 28 | The Chainsmokers – Something Just Like This (ft Coldplay) |
| 29 | Clean Bandit – Symphony (feat. Zara Larsson) |
| 30 | Starley – Call On Me (Ryan Riback Remix) |
| 31 | Kendrick Lamar – Humble |
| 32 | Cheat Codes – No Promises (feat. Demi Lovato) |
| 33 | HellyLuv – Finally |
| 34 | Martin Garrix – Scared To Be Lonely (feat. Dua Lipa) |
| 35 | Niall Horan – Slow Hands |
| 36 | Enrique Iglesias – Subeme La Radio (feat. Descemer Bueno, Zion & Lennox) |
| 37 | Zedd – Stay (feat. Alessia Cara) |
| 38 | The Weeknd – Reminder |
| 39 | Ed Sheeran – Galway Girl |
| 40 | Maroon 5 – What Lovers Do (Ft. SZA) |
| 41 | Ed Sheeran – Perfect |
| 42 | Major Lazer – Know No Better (feat.Travis Scott, Camila Cabello, Quavo) |
| 43 | DJ Khaled – I'm the One (feat. Justin Bieber, Quavo, Chance the Rapper, Lil Wayne) |
| 44 | Taylor Swift – I Don't Wanna Live Forever [feat. ZAYN] |
| 45 | Bruno Mars – Thats What I Like |
| 46 | Julia Michaels – Issues |
| 47 | Ariana Grande – Everyday (feat. Future) |
| 48 | Demi Lovato – Sorry Not Sorry |
| 49 | Machine Gun Kelly – Bad Things [feat Camila Cabello] |
| 50 | Big Shaq – Man's Not Hot |
| 51 | Dashni Morad – Love Wins |
| 52 | Lorde – Green Light |
| 53 | Sia – Move Your Body |
| 54 | DNCE – Kissing Strangers (feat. Nicki Minaj) |
| 55 | Calvin Harris – Slide (feat. Frank Ocean & Migos) |
| 56 | Taylor Swift – …Ready For It |
| 57 | Selena Gomez & Marshmello – Wolves |
| 58 | Justin Bieber & BloodPop – Friends |
| 59 | Post Malone – Rockstar (Ft. 21 Savage) |
| 60 | CNCO & Little Mix – Reggaeton Lento |
| 61 | Miley Cyrus – Malibu |
| 62 | Rodan – Referendum (feat. Aro_b) |
| 63 | Louis Tomlinson – Just Hold On (Ft. Steve Aoki) |
| 64 | ZAYN – Dusk Till Dawn (ft. Sia) |
| 65 | Little Mix – No More Sad Songs (feat. Machine Gun Kelly) |
| 66 | Calvin Harris – Feels (feat. Pharrell Williams, Katy Perry, Big Sean) |
| 67 | Khalid – Young Dumb and Broke |
| 68 | Drake – Passionfruit |
| 69 | The Killers – The Man |
| 70 | Stealth – Judgement Day |
| 71 | ZAYN – Still Got Time (feat. PARTYNEXTDOOR) |
| 72 | Migos – Bad and Boujee |
| 73 | G-Eazy – Good Life (feat. Kehlani) |
| 74 | The Weeknd – Party Monster |
| 75 | Post Malone – Congratulations (feat. Quavo) |
| 76 | BTS – MIC Drop (feat. Desiigner) [Steve Aoki Remix] |
| 77 | J Balvin – Hey Ma (feat. Pitbull, Camila Cabello) |
| 78 | Camila Cabello – Crying in the Club |
| 79 | Martin Jensen – Solo Dance |
| 80 | Bebe Rexha – I Got You |
| 81 | Selena Gomez – Bad Liar |
| 82 | Selena Gomez – Fetish (Ft. Gucci Mane) |
| 83 | Nicky Jam – El Amante |
| 84 | Halsey – Now Or Never |
| 85 | Jonas Blue – By Your Side (feat. RAYE) |
| 86 | Arilena Ara – Nentori (Bess Remix) |
| 87 | Katy Perry – Swish Swish (feat. Nicki Minaj) |
| 88 | Gryffin & Illenium – Feel Good (feat. Daya) |
| 89 | Ariana Grande & John Legend – Beauty and the Beast |
| 90 | Ed Sheeran – Castle on the Hill |
| 91 | Eminem – Walk On Water (ft Beyonce) |
| 92 | Portugal. The Man – Feel It Still |
| 93 | Louis Tomlinson – Back to You (Ft. Bebe Rexha, Digital Farm Animals) |
| 94 | Gorillaz – Andromeda (Purple Disco Machine Remix) (feat. D.R.A.M.) |
| 95 | Lady Gaga – The Cure |
| 96 | Pink – What About Us |
| 97 | The Revivalists – Wish I Knew You |
| 98 | Lana Del Rey – Lust for Life (feat. The Weeknd) |
| 99 | Lil Pump – Gucci Gang |
| 100 | Toni Ezero – Balkano |