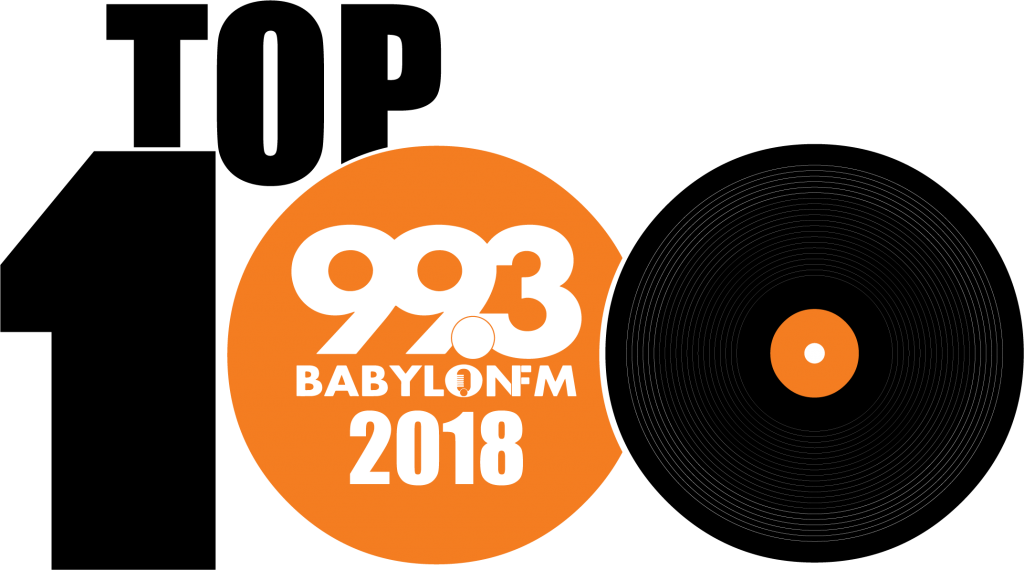 This is really becoming a tradition in our region! 2018 turned out to be a better year for us than expected! Surely better than 2017. But what about the music?
This was the 6th year doing the show, but in case you don't know what it is, here is a quick brief: we countdown the top 100 songs of the year! Now since we believe in full democracy, the way the songs are determined depend on: 33% fan votes, 33% Babylon FM staff votes, 33% spins on Babylon FM.
Ladies and gentlemen, this year's roster: Noor, Zoe, LZ, Zane, Em, Delawi, Fadi, and Slowo Mo!
| | |
| --- | --- |
| 1 | Drake – God's Plan |
| 2 | Ariana Grande – No Tears Left To Cry |
| 3 | Clean Bandit ft. Demi Lovato – Solo |
| 4 | The Weeknd – Call Out My Name |
| 5 | Calvin Harris & Dua Lipa – One Kiss |
| 6 | Maroon 5 ft. Cardi B – Girls Like You |
| 7 | DJ_Hoodini69 – Taran Kucha Ba Kucha |
| 8 | Imagine Dragons – Whatever It Takes |
| 9 | Drake – Nice For What |
| 10 | G-Eazy (feat. A$AP Rocky, French Montana, Juicy J, & Belly) – No Limit [Remix] |
| 11 | Zedd, Maren Morris & Grey – The Middle |
| 12 | Shawn Mendes – In My Blood |
| 13 | Shawn Mendes – Youth |
| 14 | Dua Lipa – IDGAF |
| 15 | Camila Cabello – Never Be the Same |
| 16 | Kendrick Lamar & SZA – All The Stars |
| 17 | The Weeknd & Kendrick Lamar – Pray For Me |
| 18 | Drake – In My Feelings |
| 19 | Khalid & Normani – Love Lies |
| 20 | DJ Snake ft. Selena Gomez, Ozuna & Cardi B – Taki Taki |
| 21 | Marshmello & Anne Marie – Friends |
| 22 | Post Malone – Better Now |
| 23 | Ariana Grande – Thank u, next |
| 24 | Bruno Mars ft. Cardi B – Finesse |
| 25 | Drake – I'm Upset |
| 26 | Migos – Stir Fry |
| 27 | Travis Scott ft. Drake, Swae Lee, Big Hawk – SICKO MODE |
| 28 | Kygo ft. Miguel – Remind Me to Forget |
| 29 | Bazzi – Mine |
| 30 | NOURI – Where Do We Go From Here |
| 31 | Imagine Dragons – Natural |
| 32 | DJ Kass – Scooby Doo Pa Pa |
| 33 | Tiesto & Dzeko ft. Preme & Post Malone –  Jackie Chan |
| 34 | BlocBoy JB ft. Drake – Look Alive |
| 35 | Daddy Yankee – Dura |
| 36 | G-Eazy and Halsey – Him and I |
| 37 | Sean Paul & David Guetta ft. Becky G – Love |
| 38 | Charlie Puth ft. Kehlani – Done For Me |
| 39 | Hailee Steinfeld & BloodPop – Capital Letters |
| 40 | Bebe Rexha – I'm a Mess |
| 41 | DJ Mansour – Dark Desert |
| 42 | Ciara – Level Up |
| 43 | Halsey – Without Me |
| 44 | Panic! At The Disco – High Hopes |
| 45 | Becky G & Natti Natasha – Sin Pijama |
| 46 | Nicki Minaj – Chun-Li |
| 47 | Nicky Jam & J Balvin – X |
| 48 | Martin Garrix ft. Khalid – Ocean |
| 49 | David Guetta ft. Sia – Flames |
| 50 | Lil Peep & XXXTENTACION – Falling Down |
| 51 | Enrique Iglesias ft. Bad Bunny – El Bano |
| 52 | No Method – Wasted Love |
| 53 | Jonas Blue ft. Jack & Jack – Rise |
| 54 | ZAYN – Let Me |
| 55 | Mahmut Orhan ft. Colonel Bagshot – 6 Days |
| 56 | No Method – City Lights |
| 57 | J Balvin, Jeon & Anitta – Machika |
| 58 | DJ Snake – Magenta Riddim |
| 59 | Cardi B, Bad Bunny & J Balvin – I Like It |
| 60 | Lil Yachty ft. Cardi B & Offset – Who Want The Smoke |
| 61 | Liam Payne & Rita Ora – For You |
| 62 | BTS – Fake Love |
| 63 | BTS ft. Nicki Minaj – IDOL |
| 64 | XXXTENTACION – SAD! |
| 65 | Post Malone ft. Ty Dolla $ign – Psycho |
| 66 | 5 Seconds of Summer – Youngblood |
| 67 | Bad Bunny ft. Drake – MIA |
| 68 |  DJ_Hoodini69 – Hayran |
| 69 | Charlie Puth – The Way I Am |
| 70 | Steve Aoki ft. BTS – Waste It On Me |
| 71 | A$AP Ferg feat. Nicki Minaj – Plain Jane [Remix] |
| 72 | Eminem – KILLSHOT |
| 73 | Marshmello & Bastille – Happier |
| 74 | French Montana ft Drake – No Stylist |
| 75 | XXXTENTACION & Lil Pump feat. Maluma & Swae Lee – Arms Around You |
| 76 | Cheat Codes feat. Kiiara – Put Me Back Together |
| 77 | Eminem ft Joyner Lucas – Lucky You |
| 78 | BLACKPINK – DDU-DU DDU-DU |
| 79 | Marshmello, Juicy J & James Arthur – You Can Cry |
| 80 | Nio Garcia, Casper Magico & Bad Bunny ft Darell, Nicky Jam, Ozuna – Te Bote |
| 81 | Rita Ora – Let You Love Me |
| 82 | Juice WRLD – Lucid Dreams |
| 83 | Lana Shams – The Bad One |
| 84 | Halsey feat. Big Sean & Stefflon Don – Alone |
| 85 | Dynoro – In My Mind |
| 86 | Shawn Mendes & Zedd – Lost In Japan (Remix) |
| 87 | Martin Solveig – My Love |
| 88 | Don Diablo feat. Calum Scott – Give Me Love |
| 89 | DJ Khaled feat. Justin Bieber, Chance The Rapper & Quavo – No Brainer |
| 90 | JENNIE – SOLO |
| 91 | Billie Eilish & Khalid – lovely |
| 92 | Rudimental & Major Lazer feat. Anne-Marie & Mr Eazi – Let Me Live |
| 93 | Eminem feat. Ed Sheeran – River |
| 94 | Digital Farm Animals, Shaun Frank, & Dragonette – Tokyo Nights |
| 95 | AuRa feat. CamelPhat – Panic Room |
| 96 | Childish Gambino – This Is America |
| 97 | Halsey – Sorry |
| 98 | Little Mix ft Nicki Minaj – Woman Like Me |
| 99 | Shakira feat. Maluma – Clandestino |
| 100 | Armin van Buuren – Blah Blah Blah |