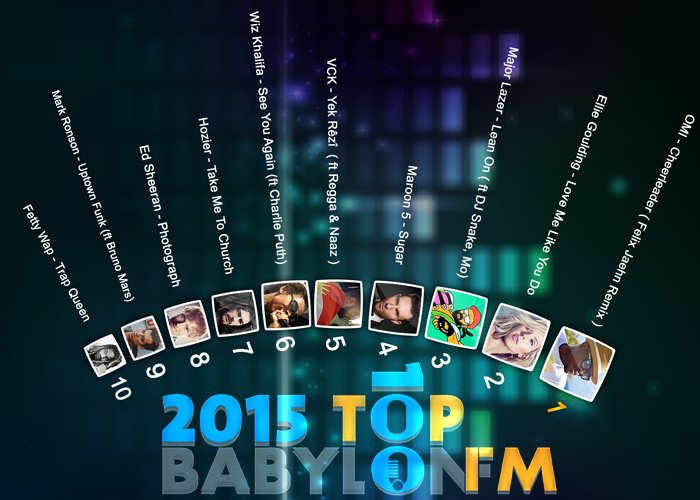 2015 was another difficult year for our region. With terrorists near us, millions of refugees in our cities, and a financial crisis, it was hard making it day by day in Kurdistan. Luckily, the music of 2015 gave us a way of forgetting things just for a little bit!
The year saw a surge in the popularity of deep house and trance in the music industry. Ballads such by Ellie Goulding and Hozier also dominated the year. The year also saw the comeback of hip-hop in pop culture with Wiz Khalifa and newcomer Fetty Wap leading the way. Veterans such as Maroon 5, Rihanna, and Bruno Mars also made their mark in the year.
However the number one spot was taken by an artist nobody knew a year ago! OMI with Cheerleader dominated the year with its Jamaican-flavored tune. Here's a to great 2016!
This year's show included Noor, Angel B, Dilawi, Pastek, DDe, Oz and Z-Man.
| | | | |
| --- | --- | --- | --- |
| 1 | OMI | Cheerleader (Felix Jaehn Remix) |   |
| 2 | Ellie Goulding | Love Me Like You Do | |
| 3 | Major Lazer | Lean On (Feat. DJ Snake, MO) | |
| 4 | Maroon 5 | Suger | |
| 5 | VCK | Yek Rêzî [ft Regga & Naaz] | |
| 6 | Wiz Khalifa | See You Again (ft Charlie Puth) | |
| 7 | Hozier | Take Me To Church | |
| 8 | Ed Shreen | Photograph | |
| 9 | Mark Ronson | Uptown Funk (ft Bruno Mars) | |
| 10 | Fetty Wap | Trap Queen | |
| 11 | Rihanna | B Better Have My Money | |
| 12 | MizGin | If I Said I'm in Love (Suicide) | |
| 13 | The Weeknd | The Hills | |
| 14 | Years & Years | King | |
| 15 | Avicii | Waiting For Love | |
| 16 | Ed Sheeran | Bloodstream | |
| 17 | David Guetta | Hey Mama (ft. Afrojack, Nicki Minaj) | |
| 18 | The Weeknd | Can't Feel My Face | |
| 19 | Jack U | Where Are U Now (ft Justin Bieber) | |
| 20 | Lost Frequencies | Are You With Me | |
| 21 | Calvin Harris | How Deep Is Your Love (ft Disciples) | |
| 22 | Adele | Hello | |
| 23 | Drake | Hotline Bling | |
| 24 | Avicii | The Nights | |
| 25 | Fifth Harmony | Worth It (Feat. Kid Ink) | |
| 26 | Zedd | I Want You to Know (Feat. Selena Gomez) | |
| 27 | Justin Bieber | Sorry | |
| 28 | Kygo | Firestone (Feat. Conrad Sewell) | |
| 29 | Taylor Swift | Bad Blood (Feat. Kendrick Lamar) | |
| 30 | Justin Bieber | What Do You Mean | |
| 31 | Demi Lovato | Cool for the Summer | |
| 32 | Sam Smith | Like I Can | |
| 33 | Taylor Swift | Style | |
| 34 | Rihanna | FourFiveSeconds (Feat. Kanye West, Paul McCartney) | |
| 35 | Alesso | Cool (Feat. Roy English) | |
| 36 | Coldplay | Adventure of a Lifetime | |
| 37 | Kygo | Stole The Show (Feat. Parson James) | |
| 38 | Nick Jonas | Jealous | |
| 39 | Omarion | Post To Be (Feat. Chris Brown, Jhene Aiko) | |
| 40 | Tove Lo | Talking Body | |
| 41 | Jason Derulo | Want to Want Me | |
| 42 | Jess Glynne | Hold My Hand | |
| 43 | Big Sean | I Don't Fuck With You (Feat. E-40) | |
| 44 | Natalie La Rose | Somebody (Feat. Jeremih, Fetty Wap, Sage the Gemini, Troy Ave.) | |
| 45 | Selena Gomez | The Heart Wants What It Wants | |
| 46 | Robin Schulz | Sugar (Feat. Francesco Yates) | |
| 47 | One Direction | Night Changes | |
| 48 | Ariana Grande | One Last Time | |
| 49 | Eva Simons | Policeman (Feat. Konshens) | |
| 50 | Calvin Harris | Pray to God (Feat. HAIM) | |
| 51 | Deorro | Five More Hours (Feat. Chris Brown) | |
| 52 | Twenty One Pilots | Tear In My Heart | |
| 53 | Wiz Khalifa | Go Hard Or Go Home (Feat. Iggy Azaelea) | |
| 54 | Zara Larsson | Lush Life | |
| 55 | 5 Seconds Of Summer | She's Kinda Hot | |
| 56 | Alex Adair | Make Me Feel Better | |
| 57 | Chris Brown | Ayo (Feat. Tyga) | |
| 58 | Helly Luv | Revolution | |
| 59 | Sam Smith | Lay Me Down | |
| 60 | Maroon 5 | This Summers Gonna Hurt | |
| 61 | 5 Seconds Of Summer | Hey Everybody! | |
| 62 | Pitbull | Time Of Our Lives (Feat. Ne-Yo) | |
| 63 | Fall Out Boy | Uma Thurman | |
| 64 | Mike Mago | Outlines [Feat. Dragonette] | |
| 65 | Nick Jonas | Chains | |
| 66 | Sia | Alive | |
| 67 | Robin Schulz | Headlights (Feat. Ilsey) | |
| 68 | James Bay | Hold Back The River | |
| 69 | Zwette | Rush [Feat. Molly] (Sam Feldt Remix) | |
| 70 | Selena Gomez | Good For You (Feat. A$AP Rocky) | |
| 71 | Rudimental | Lay It All On Me (Feat. Ed Sheeran) | |
| 72 | Selena Gomez | Same Old Love | |
| 73 | Felix Jaehn | Ain't Nobody (Loves Me Better) (Feat. Jasmine Thompson) | |
| 74 | R. City | Locked Away (Feat. Adam Levine) | |
| 75 | Shaggy | I Need Your Love (Feat. Mohombi, Faydee, Costi) | |
| 76 | Disclosure | Omen (Feat. Sam Smith) | |
| 77 | Taylor Swift | Wildest Dreams | |
| 78 | Eden XO | Too Cool To Dance | |
| 79 | Sam Feldt | Show Me Love | |
| 80 | Nicky Jam | El Perdon (Feat. Enrique Iglesias) | |
| 81 | The Weeknd | Earned It | |
| 82 | One Direction | Drag Me Down | |
| 83 | Blonde | I Loved You (Feat. Melissa Steel) | |
| 84 | Krept And Konan | Freak Of The Week (Feat. Jeremih) | |
| 85 | Sigma | Glitterball (ft Ella Henderson) | |
| 86 | Enrique Iglesias | Let Me Be Your Lover (ft Pitbull) | |
| 87 | Tori Kelly | Nobody Love | |
| 88 | Clean Bandit | Stronger | |
| 89 | Martin Solveig | Intoxicated | |
| 90 | Who Is Fancy | Goodbye | |
| 91 | Major Lazer | Light It Up (ft Nyla, Fuse ODG) | |
| 92 | Sigala | Easy Love | |
| 93 | Zedd | Beautiful Now (Feat. Jon Bellion) | |
| 94 | DJ Polique | Don't Wanna Go Home [ft FYI] | |
| 95 | Jennifer Lawrence | The Hanging Tree | |
| 96 | One Direction | Perfect | |
| 97 | Andy Grammer | Honey, I'm Good | |
| 98 | DJ Fresh | Gravity (ft Ella Eyre) | |
| 99 | Kid Ink | Ride Out (Feat. Tyga, Wale, YG, Rich Homie Quan) | |
| 100 | Galantis | Runaway (U & I) | |