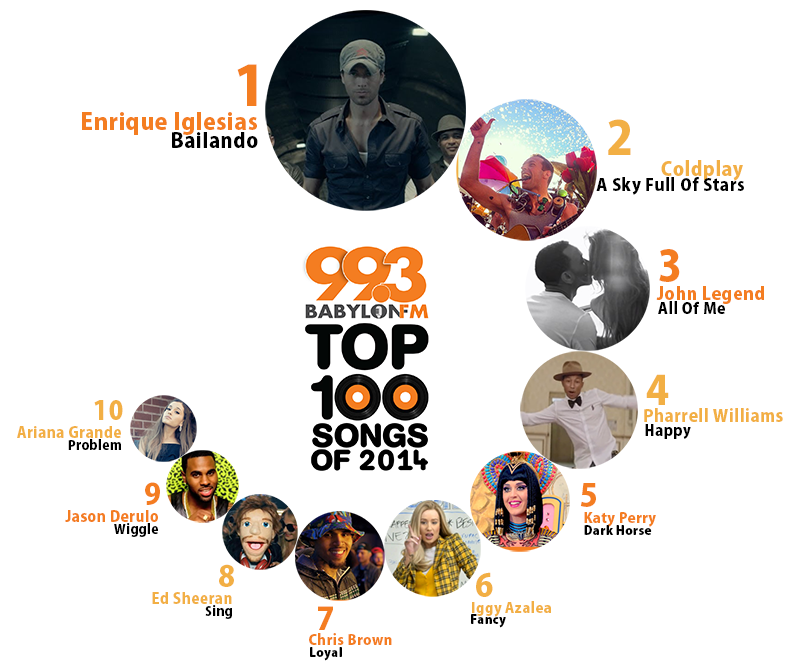 The 2014 year in music will not be forgotten! Mostly for the terrible things that happened in the region. The so called Islamic State (ISIS or Daash) took over nearby Mosul city, leading to hundreds of thousands of people finding refuge in our streets. At the same time, the economy went into a great state of depression, leading to people losing their jobs or having their salaries cut by as much as 75%.
It's during difficult times such as the year 2014, that we need music more than ever! Babylon FM and our great hosts made us forget about our daily problems and the atrocities that were occurring just an hour drive from us.
We saw big names like Katy Perry and Ariana Grande dominating as usual, with new albums from fan favorites Coldplay, Pharrell Williams and Chris Brown. And the number one song of the 2014 Babylon TOP100 was a non-English song!
He look forward to a better 2015, where we can be singing happily again without any more wars.
This year's Babylon TOP100 featured Noor, Angel B, Sal, Zana, and Z-Man.
| | | | |
| --- | --- | --- | --- |
| 1 | Enrique Iglesias | Bilando (Feat. Descemer Bueno & Gente De Zone) | |
| 2 | Coldplay | A Sky Full Of Stars | |
| 3 | John Legend | All Of Me | |
| 4 | Pharrell Williams | Happy | |
| 5 | Katy Perry | Dark Horse (Feat. Juicy J) | |
| 6 | Iggy Azalea | Fancy (Feat. Charli XCX) | |
| 7 | Chris Brown | Loyal (Feat. Lil Wayne & French Montana) | |
| 8 | Jason Derulo | Wiggle (Feat. Snoop Dogg) | |
| 9 | Ed Sheeran | Sing | |
| 10 | Calvin Harris | Summer | |
| 11 | Ariana Grande | Problem (Feat. Iggy Azalea) | |
| 12 | Rixton | Me And My Broken Heart | |
| 13 | MizGin | Get You Off | |
| 14 | Li Dine | Tobe | |
| 15 | Taylor Swift | Shake It Off | |
| 16 | Magic! | Rude | |
| 17 | Ed Sheeran | I See Fire (Kygo Remix) | |
| 18 | Maroon 5 | Animals (Feat. J Cole) | |
| 19 | OneRepublic | Love Runs Out | |
| 20 | Calvin Harris | Blame | |
| 21 | Mr. Probz | Waves (Robin Schulz Remix) | |
| 22 | Iggy Azalea | Black Widow (Feat. Rita Ora) | |
| 23 | Avicii | Addicted To You | |
| 24 | Clean Bandit | Rather Be (Feat. Jess Glynne) | |
| 25 | Lilly Wood | Prayer In C (Robin Schulz Remix) | |
| 26 | Beyonce | Drunk In Love (Feat. Jay-Z) | |
| 27 | Renas Miran | Her Disa Disa (Feat. Derya Nazdar & LMX) | |
| 28 | Maroon 5 | Maps | |
| 29 | Ed Sheeran | Don't | |
| 30 | George Ezra | Budapest | |
| 31 | Renas Miran | Latifa | |
| 32 | Avicii | Lay Me Down | |
| 33 | Ariana Grande | Love Me Harder (Feat. The Weeknd) | |
| 34 | Nicki Minaj | Anaconda | |
| 35 | Becky G | Shower | |
| 36 | Katy Perry | This is How We Do | |
| 37 | DJ Snake | Turn Down For What (Feat. Lil Jon, Juicy J, 2 Chainz, French Montana) | |
| 38 | Cris Cab | Lair Lair (Feat. Parrell Williams) | |
| 39 | Zhu | Faded | |
| 40 | Vance Joy | Riptide | |
| 41 | David Guetta | Dangerous | |
| 42 | DVBBS & Borgeous | Tsunami (Feat. Tinie Tempah) | |
| 43 | Kid Ink | Show Me (Feat. Chris Brown,2 Chainz, Trey Songz, Juicy J) | |
| 44 | David Guetta | Lovers On The Sun (Feat. Sam Martin) | |
| 45 | Pitbull | Fireball (Feat. John Ryan) | |
| 46 | Rita Ora | I Will Never Let you Down | |
| 47 | Clean Bandit | Come Over (Feat. Stylo G) | |
| 48 | Calvin Harris | Outside (Feat. Ellie Goulding) | |
| 49 | The Chainsmokers | #Selfie | |
| 50 | Demi Lovato | Let Her Go | |
| 51 | Katy Perry | Birthday | |
| 52 | Charli XCX | Boom Clap | |
| 53 | Ariana Grande | Break Free (Feat. Zedd) | |
| 54 | Nico & Vinz | Am I Worng | |
| 55 | Beyonce | Partition | |
| 56 | Tinashe | 2 On (Feat. Schoolboy) | |
| 57 | Duke Demund | I Got U (Feat. Jax Jones) | |
| 58 | Calvin Harris | Open Wide (Feat. Big Sean) | |
| 59 | Cash Cash | Take Me Home (Feat. Bebe Rexha) | |
| 60 | Kiesza | Hideaway | |
| 61 | Fuse ODG | Dangerous Love (Feat. Sean Paul) | |
| 62 | Shakira | La La La (Brazil 2014) | |
| 63 | Jacob Latimore | Heartbreak Heard Around The World (Feat. T-Pain) | |
| 64 | Juatin Timberlake | Not a Bad Thing | |
| 65 | Taylor Swift | Blank Space | |
| 66 | American Authors | Best Day Of My Life | |
| 67 | Pitbull | We Are One (Ole Ola) (Feat. Jennifer Lopez & Cláudia Leitte) | |
| 68 | 5 Seconds Of Summer | Amnesia | |
| 69 | Will.I.AM | It's My Birthday | |
| 70 | Ecosmith | Cool Kids | |
| 71 | Meghan Trainor | All About That Bass | |
| 72 | One Direction | Steal My Girl | |
| 73 | Nicole Scherzinger | Your Love | |
| 74 | Santana | Dar um Jeito (we Will Find A Way) (Feat. Wyclef) | |
| 75 | Romeo Santos | Odio (Feat. Drake) | |
| 76 | 5 Seconds Of Summer | She Looks So Perfect | |
| 77 | Klingande | Jubel | |
| 78 | Clean Bandit | Extraordinary (Feat. Sharna Bass) | |
| 79 | Trey Songz | NaNa | |
| 80 | Sia | Chandelier | |
| 81 | Clean Bandit | Real Love (ft. Jess Glynne) | |
| 82 | Florida Georgia Line | This Is How We Roll (Feat. Jason Derulo & Luke Bryan) | |
| 83 | Beyonce | XO | |
| 84 | Magic System | Magic In The Air (Feat. Ahmed Chawki) | |
| 85 | Chris Brown | New Flame (Feat. Usher & Rick Ross) | |
| 86 | Eminem | Guts Over Fear (Feat. Sia) | |
| 87 | O.T. Genasis | CoCo | |
| 88 | Deorro | Five Hours | |
| 89 | Martin Garrix | Animals | |
| 90 | Eminem | Headlights (Feat. Nate Ruess) | |
| 91 | One Direction | Midnight Memories | |
| 92 | Alesso | Heroes (We Could Be) (Feat. Tove Lo) | |
| 93 | Robin Schulz | Sun Goes Down (Feat.  Jasmine Thompson) |   |
| 94 | Arash | One Day (Feat. Helena) | |
| 95 | Zedd | Find You (Feat. Mathhew Koma & Miriam Bryant) |    |
| 96 | David Guetta | Shot Me Down (Feat. Skylar Grey) | |
| 97 | Gorgon City | Here For You | |
| 98 | Sigma | Changing (Feat. Paloma Faith) | |
| 99 | Melissa Steel | Kisses For Breakfast (Feat. Popcaan) |   |
| 100 | Ed Sheeran | Thinking Out Loud | |