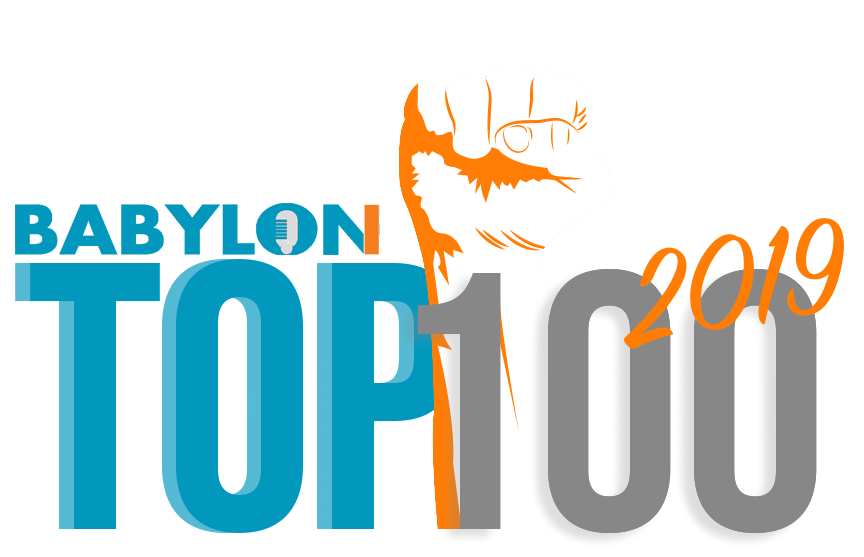 The year isn't complete without the Babylon TOP100! Another year gone with many memories to take with us as we enter the new decade! Like every year, we had ups and downs in 2019, but all in all, we think things looked a lot better than previous years!
So many things happened: biggest protests in Iraq since 2013, leading to the PM resigning, KRG got a new PM as Nechirvan Barzani passed it on to Masrour Barzani, Rojava got attacked, Logan Paul fought KSI again, Uber-style taxis (Careem and Obr) launched in Kurdistan, Starbucks and Burger King opened up in Erbil, pomegranate season exploded, top movies included Lion King, Joker, Charlies Angels, Avengers (AGAIN!) End Game, Maleficent, Frozen 2, everyone wanted to dress as La Casa De Papel for Halloween, Jonas brothers got back, Kanye became religious, Prince Harry becomes a father, we got lights on 120m (don't work all the times thou), Jennifer Aniston broke Instagram, Justin Bieber got married, so did the Rock and Pewdiepie, Trump showed off his Photoshop skills, Messi wins player of the year award (for the 6th time!), HBO's Chernobyl took front stage, Tesla shocks everyone with new truck, fake rumors of Pitbull concert in Erbil spread like fire and most importantly we were bless with GREAT music!!
Here on Babylon FM, we always end the year by looking back at the best music that were released. This year we got Noor, Zoe, Zane, Dalawi, Slomo, Em and the newcomer Lara! Noor's fiance Maryam and her maid-of-honor Dudu joined the fun too! 2019's theme was Noor's marriage and how the rest of the crew tried to stop the party from happening since Noor decided to cancel the TOP100! This year was extra special, as found out who was the artist decade champion! After fans voted for 2 months on our Instagram as 64 artists went head to head, and Ed Sheeran came out on top.



https://www.youtube.com/watch?v=VEXt2AJg3YE
Enough reading, let's get to the results of the 2019 Babylon TOP100!
| | |
| --- | --- |
| 1 | Billie Eilish – bad guy |
| 2 | Ed Sheeran & Justin Bieber – I Don't Care |
| 3 | Ariana Grande – 7 Rings |
| 4 | Drake – Money In The Grave (feat. Rick Ross) |
| 5 | Lil Nas X ft Billy Ray Cyrus – Old Town Road |
| 6 | Ali Gatie – It's You |
| 7 | Shawn Mendes & Camila Cabello – Senorita |
| 8 | Jonas Brothers – Sucker |
| 9 | Daddy Yankee ft Snow – Con Calma |
| 10 | Ava Max – Sweet But Psycho |
| 11 | Jonas Brothers – Only Human |
| 12 | Ed Sheeran – Cross Me (feat. Chance The Rapper & PnB Rock) |
| 13 | Lady Gaga & Bradley Cooper – Shallow (A Star Is Born) |
| 14 | 21 Savage – A Lot (feat. J Cole) |
| 15 | Helly Luv & Ardian Bujupi – GUNS & ROSES |
| 16 | Halsey – Nightmare |
| 17 | Jonas Brothers – Cool |
| 18 | Ariana Grande, Miley Cyrus & Lana Del Rey – Don't Call Me Angel (Charlie's Angels) |
| 19 | Maroon 5 – Memories |
| 20 | Calvin Harris & Rag'n'Bone Man – Giant |
| 21 | Imagine Dragons – Bad Liar |
| 22 | Taylor Swift – You Need To Calm Down |
| 23 | Tones and I – Dance Monkey |
| 24 | Imagine Dragons – Birds (feat. Elisa) |
| 25 | HAVANA – I Lost You (feat. Yaar) |
| 26 | Billie Eilish – everything i wanted |
| 27 | DJ Snake ft J Balvin & Tyga – Loco Contigo |
| 28 | BTS ft Charli XCX – Dream Glow |
| 29 | Sam Smith – How Do You Sleep |
| 30 | Ed Sheeran – Beautiful People (feat. Khalid) |
| 31 | Sam Smith & Normani – Dancing With A Stranger |
| 32 | Kygo & Whitney Houston – Higher Love |
| 33 | Post Malone – Goodbyes (feat. Young Thug) |
| 34 | Sean Paul & J Balvin – Contra La Pared |
| 35 | Ed Sheeran – South of the Border (feat. Camila Cabello & Cardi B) |
| 36 | Post Malone – Circles |
| 37 | Dua Lipa – Don't Start Now |
| 38 | Mabel – Don't Call Me Up |
| 39 | Blanco Brown – The Git Up |
| 40 | Dua Lipa & BLACKPINK – Kiss & Make Up |
| 41 | Spire Wolf – Where Are You (Feat. Kosha & Graiiyii) |
| 42 | Lauren Daigle – Still Rolling Stones |
| 43 | Ariana Grande – Breathin |
| 44 | blackbear – hot girl bummer |
| 45 | Avicii – Heaven [feat. Chris Martin) |
| 46 | Daya – Insomnia |
| 47 | Taylor Swift – ME! (feat. Brendon Urie) |
| 48 | The Weeknd – Blinding Lights |
| 49 | KAZKA – Cry |
| 50 | Meek Mill – Going Bad (feat. Drake) |
| 51 | DJ Khaled – Just Us (feat. SZA) |
| 52 | Ariana Grande – boyfriend (feat. Social House) |
| 53 | BTS ft Halsey – Boy With Luv |
| 54 | HUGEL – Bella Ciao |
| 55 | BTS – Make It Right (feat. Lauv) |
| 56 | Gucci Mane – Love Thru The Computer (feat. Justin Bieber) |
| 57 | Marshmello ft CHVRCHES – Here With Me |
| 58 | Normani – Motivation |
| 59 | Alec Benjamin – Let Me Down Slowly (feat. Alessia Cara) |
| 60 | James Arthur & Martin Jensen – Nobody |
| 61 | Prince Slomo – Paris |
| 62 | Shawn Mendes – If I Can't Have You |
| 63 | Lauv & Troye Sivan – I'm so tired |
| 64 | Lady Gaga & Bradley Cooper – I'll Never Love Again |
| 65 | Anuel AA ft Romeo Santos – Ella Quiere Beber (Remix) |
| 66 | Ariana Grande & Victoria Monet – Monopoly |
| 67 | Cardi B & Bruno Mars – Please Me |
| 68 | Jon Pardi – Heartache Medication |
| 69 | BLACKPINK – Kill This Love |
| 70 | Ali Gatie – Say to You |
| 71 | Camila Cabello – Liar |
| 72 | Ariana Grande & Chaka Khan – Nobody |
| 73 | Selena Gomez – Lose You To Love Me |
| 74 | 5 Seconds of Summer – Easier |
| 75 | Ariana Grande, Normani & Nicki Minaj – Bad To Yo |
| 76 | The Weeknd – Heartless |
| 77 | Nicky Jam & Ozuna – Te Robar |
| 78 | Alan Walker, Sabrina Carpenter & Farruko – On My Way |
| 79 | DoubleOZ – Everybody Dance Now |
| 80 | Dhurata Dora ft. Soolking – Zemër |
| 81 | Avicii ft Aloe Blacc – SOS |
| 82 | Anuel AA & Karol G – Secreto |
| 83 | Geko, Stefflon Don, Deno & Dappy – Link Up |
| 84 | DJ Mansour – First Destination |
| 85 | Ozuna – Baila Baila Baila |
| 86 | j-hope – Chicken Noodle Soup (feat. Becky G.) |
| 87 | Billie Eilish – Bellyache |
| 88 | benny blanco, Tainy, Selena Gomez & J Balvin – I Can't Get Enough |
| 89 | SHAED and ZAYN – Trampoline |
| 90 | Lil Peep & iLoveMakonnen – I've Been Waiting (feat. Fall Out Boy) |
| 91 | Dan & Shay ft Justin Bieber – 10,000 Hours |
| 92 | Blake Shelton – God's Country |
| 93 | Lewis Capaldi – Someone You Loved |
| 94 | Taylor Swift – Lover |
| 95 | Tiesto, Jonas Blue & Rita Ora – Ritual |
| 96 | SZA, The Weeknd & Travis Scott – Power Is Power |
| 97 | Dimitri Vegas, Like Mike, David Guetta & Daddy Yankee – Instagram (feat. Natti Natasha & Afro Bros) |
| 98 | John Mayer – New Light |
| 99 | Post Malone & Swae Lee – Sunflower |
| 100 | DHARIA – Sugar Brownies |