ARE 5 SECONDS OF SUMMER MAKING A COMEBACK !?
Written by Marian Zaito on 2018-02-17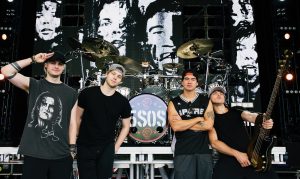 It's been 847 days since Aussie pop-rockers 5 Seconds of Summer released their second album, Sounds Good Feels Good. Its been too long and everyone is ready to geth their ears blessed with new frewah music from 5SOS.
But fear not, 5SOS Fam! The boys from down under seem to finally be gearing up for album No. 3, if their recent social media activity is any indication. On Thursday night (February 15), the guys shared a monochrome promo pic with the caption, "BEHIND THE SCENES 2018." Hours later, they tweeted the much more explicit hashtag #5SOS3ISCOMING, hinting that their legion should be on the lookout for new tunes soon.
The band's cryptic but promising new teasers come after guitarist Michael Clifford spoke about album No. 3 with Billboard in December. He admitted,
"Our fans were pretty pissed off that we didn't give them an update about releasing an album this year because towards the start of the year, we were pretty positive we'd have an album out by the end of [2017]. With timing, it just didn't end up working, but we're definitely gonna have the album out next year." He added "I think when all the new stuff comes out, it's like a departure of our old sound but it still keeps elements of all of the things we liked about it. It was just time for us to change."
YESS WE CAN'T WAIT
---