The staff of Babylon FM joined Buffalo Wings & Rings for the special grand opening on December 10th!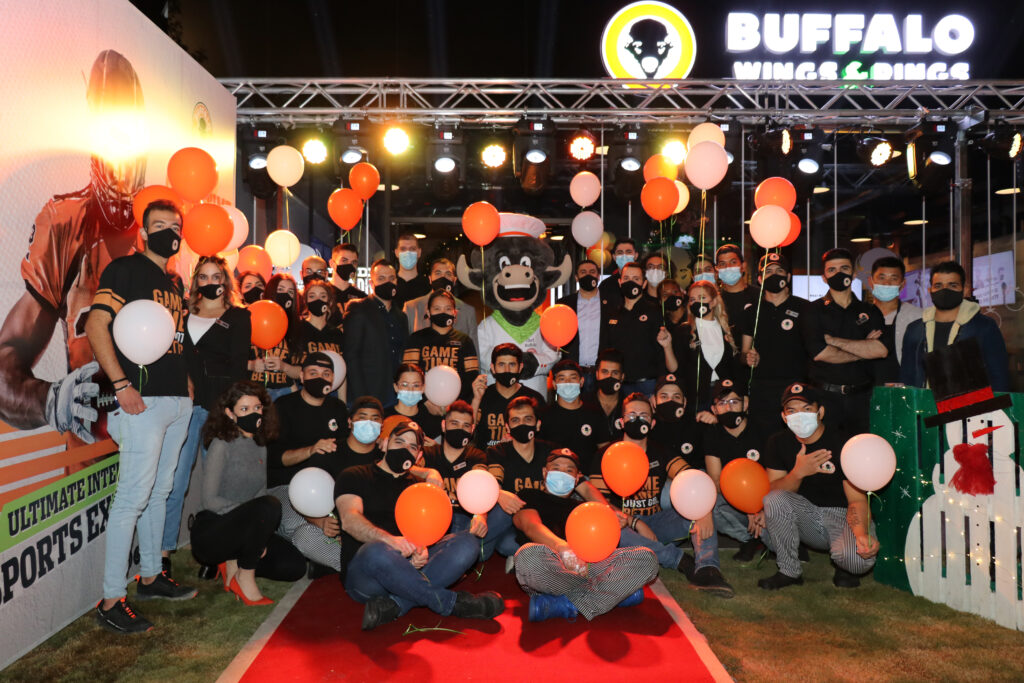 Buffalo Wings & Rings, the much-loved American casual dining restaurant is celebrating the opening of its newest branch. Located in Erbil's bustling area of Dream City, it is set to satisfy the cravings of Erbilians with fresh flavors at a great value.
The restaurant features a new design direction that is both modern and elevated with concrete finishings that contrast with warm brick walls. The second floor is filled with TV screens to give sports fans enjoy an immersive spectator experience from every angle. The interior dining hall in the first floor features cozy seating options for intimate family-friendly gatherings as well as interactive zones for larger groups.
Aside from serving delicious chicken wings and signature sauces ranging in heat from the mildest to the most daring 1 million sauce, the menu promises to satisfy every craving. A wide selection of dishes from fresh salads, handcrafted burgers filled with gourmet ingredients and tex-mex options bursting with rich flavors inspired by the American south is available from noon till late. The dining experience is not complete without a refreshing signature drink or an alcoholic beverage from the extensive drinks menu featuring top shelf international brands as well as local varieties including ice cold draft beer.
"We are very excited to finally have a top American restaurant chain in Erbil. With Buffalo Wings & Rings, the people of Erbil will have a place to have fun, taste delicious food, and enjoy specially made drinks'' said Haytham David, President and founder of Buffalo Wings & Rings International.  "What we aim is to provide the community a restaurant  that is always full of excitement and action. The city of Erbil has been waiting for many years to have such a place, and we're thrilled to see its doors finally open."
Iraq is set to be a key market for the Buffalo Wings & Rings chain in the region and is set to be a key contributor to the brand's overall success with 22 international stores in seven European and MENA countries and counting. With the first branch in Erbil, the team is already looking for expansion in major cities such as Sulaymaniyah and Duhok.