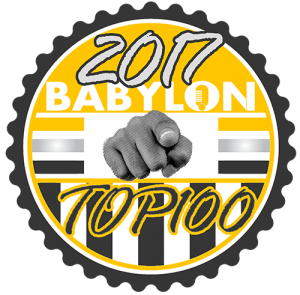 It's the most wonderful time of the year! The sopa is on, the shalgam is cooking, and you got three sweaters on while sitting in your living room cause kahraba niya! It's also time for the Babylon TOP100! This tradition is going into year number five, where we will determine the top 100 songs of 2017. To see the results of the previous years, click here. In case you forgot how the songs are determined, here's a quick reminder! The order is based on 3 things equally:
–  Fan votes
– Staff votes
– Babylon FM radio spins
We've had many memorable moments on the Babylon TOP100 previously, including US President Donald Trump taking over the radio station last year and putting Noor in a cage.
Now it's time for you to vote! The fans' opinion comprises 33% of the results. Do you have an addiction to voting after the referendum that was held in our region? Now you can vote for as many songs as you want! But choose wisely! Listen for the results on Christmas Day, December 25, starting at 5PM.
Voting has begun! Your last chance to vote will be on December 20th.
Local Singers
Loading ...
Alternative
Loading ...
Country
Loading ...
Dance
Loading ...
Foreign
Loading ...
Hip-Hop/R&B
Loading ...
Pop
Loading ...
Soul
Loading ...